Residential Air Conditioning
For many, listening is a lost art. At Sean McCutcheon's Air Conditioning and Heating, Inc. (SMAC), our NATE Certified experts excel at it.
They can handle any job from minor equipment repairs and system maintenance to complete system design and new equipment installation.
While many competitors recommend unnecessary products and services that don't solve your problem, our trained technicians listen to your needs and guide you through the selection process of a new system to ensure you receive the right solution for your home comfort needs and budget. Through our customized solution, you'll receive a high-efficiency heating and air conditioning system that saves you energy and money, and filtration systems that keep the air inside your home healthy and clean so your family can breathe easy.
For these reasons, among many others, SMAC has become the preferred air specialists for our customers ranging from Lakewood Ranch through Venice, and everywhere in between.
When you turn to the professionals at Sean McCutcheon's Air Conditioning and Heating, Inc. for your indoor air quality needs, you can be certain that you will receive the exceptional service you deserv
What you should know about replacing your air conditioning system
The number one mistake many home owners make when replacing their air conditioning system is hiring the lowest bidder. This is because the company with the lowest bid will most likely cut corners on the installation of the unit. In short, you get what you pay for.
A homeowner should always shop quality first, and price second. Determine what the best and most efficient system is for your needs. Do research and gather information so you know what exactly needs to be done to properly install the system. Don't be afraid to ask for a second opinion. We offer a free review of a competitor's recommendation to see if it makes sense to solve your problem.
Once you are armed with this knowledge you can then choose the right contractor to do the work.
When installing a high-end system in an older home there are many modifications that need to be made including replacing copper refrigerant lines and running larger gauge wiring to the breaker panel. With a new system that requires R410a refrigerant, the line sets should have a thicker gauge wall thickness to allow for the higher pressures that R410a produces. When installing a high-speed system, or a 2 speed system, the wiring to the breaker panel may need to be upgraded.
Almost 75% of Air Conditioning System change-outs are improperly installed.
You cannot simply drop a brand new unit in the spot where the older unit was. It is crucial that older duct work is examined, tested, upgraded or replaced if needed.
Think of it this way – would you put a new high performance Corvette V8 engine into a 1977 Gremlin and expect it to run correctly and not malfunction? This is what some contractors do though, and homeowners suffer because the air conditioning systems do not operate efficiently which results in less energy savings and high repair bills. Even if the unit is under warranty – you still need to pay for labor.
Sean McCutcheon's Air Conditioning and Heating, Inc. makes proper installation our number one priority. This is why we have 100% customer satisfaction, an A+ BBB rating, and the lowest amount of warranty issue problems in Florida.
Replacing your current air conditioning system?
The challenge of retrofitting today's high efficiency systems is that, while they have become more efficient, they have also grown larger in size so it is more important than ever to have the right company for the job.
Sean McCutcheon's Air Conditioning and Heating, Inc. is the retrofit expert.
Since 2003 Sean McCutcheon's Air Conditioning and Heating has been helping homeowners and businesses in Sarasota and Manatee counties upgrade and replace their equipment.
We have the experience, the knowledge, and the imagination to "work outside the box" and achieve the custom installation that will satisfy the needs of the client.
We offer complimentary replacement estimates in Sarasota and Manatee counties.
I have a winter home in Sarasota. I don't normally go on these review things because when I call a company to do work I expect it to be done right - but unfortunately I have used other companies in the past that pretty much just ripped me off. They take advantage of older people who may not be familiar with local companies.
Three years ago I first hired Sean's company to fix my air conditioning - at the time they said it was very old and eventually would need to be replaced but they we able to keep it running for three years. They never once tried to pressure me or my wife, the small repairs they did we're reasonable and at no time did I ever feel like they were trying to pull the wool over my eyes.
These guys are honest as the day is long and when my air conditioner finally took the celestial dirt nap I knew I could trust them to fix me right up. They discovered that animals had torn our duct work all up so they not only fixed me up with a new ac system but they replaced the ductwork. Sean even suggested that I still get 2 other quotes before they did the work - which I did - but One of the other guys was very pushy, and the other was much more expensive, I was always going to use Sean anyway but I'm glad that he is so confident that he makes sure people get other estimates."
Air Conditioning Replacement And Repair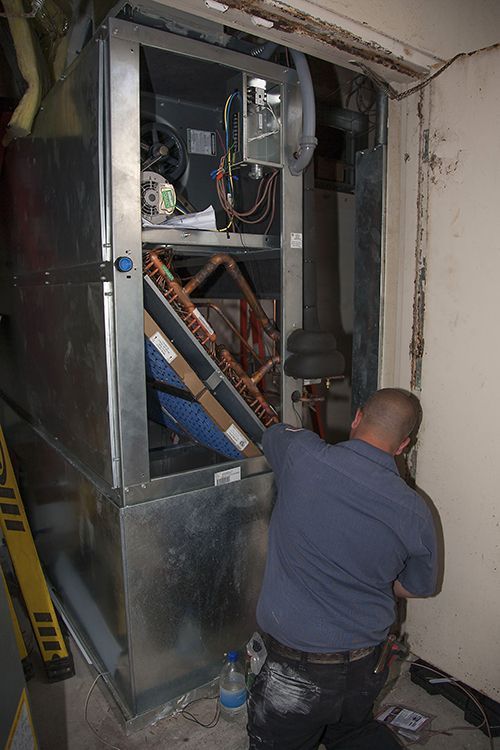 We all depend on our air conditioning systems to keep us cool and comfortable, but sometimes they can be "out of sight and out of mind," - or at least until they stop working.
When your air conditioning breaks down, you need to know that it will be fixed quickly and the job will be done right the first time. An air conditioning system is a huge investment, maybe your largest appliance, so it's something you'll want to get many years out of.
Our factory-trained and NATE certified technicians have the experience to repair most brands of HVAC equipment. We will never sell you products, parts, or services you don't need. We always keep our customers' best interest in mind, and will always do what is best for you.
The best way to ensure your air conditioning system will last is to have regular maintenance performed on it.
We can help keep your system well maintained and running smoothly. A little preventive maintenance now can save you from a potentially costly repair down the road. And in the event that your system does need to be repaired, we will have it back up and running in no time.
When you hire us to repair or maintain your air conditioning, you are hiring a company that has a genuine concern for customer satisfaction.
Unlike some companies that use telemarketers and salesmen disguised as technicians, we aren't going to automatically try to sell you something you don't need.
We'll diagnose the problem and give you the information you need to make the right decision. We want the opportunity to prove ourselves to you, earn your business and your trust, and when you do have a problem down the road we'd like to think that you will feel confident calling us to fix that problem.
Ideally, maintenance should be completed twice a year to ensure that your system is functioning properly. Maintenance will help extend the life of your system and give your family years of comfort and dependability.
For a convenient way to keep your equipment in top condition, ask about our maintenance service agreements and our referral program where you can receive free AC maintenance.
At Sean McCutcheon's Air Conditioning and Heating, Inc. our goal is to keep you and your family cool and comfortable, while offering you the quality and service you deserve!